Driving with Cats: Ours for a Short Time
Feline Wisdom for the Human Soul
Driving with Cats: Ours for a Short Time is a memoir that celebrates the rich bond we share with our animal companions. The book tells the story of the author and her cats, but it goes beyond this. Driving with Cats is about how the author's cats have helped her become a better human. The book doesn't shy away from life or death – as some of the most enlightening times imaginable come when we are helping another being pass on. Cats, dogs, and animal companions can teach us about life, compassion, letting go, releasing judgment, and finding the beauty in deep and selfless love (ours and theirs).
The book is framed by the narrative of the memorable cat Jamie's last months of life. Chapters tell the stories of various cats in the author's life, and their impact. Short essays throughout range from thoughtful to humorous, and cover everything from cat care to thoughts about the human/animal bond.
Driving with Cats: Ours for a Short Time is a book that can be treasured by cat lovers, and by anyone who is moved by the life lessons of compassion, letting go, living in the moment, and selfless love.
 Now available for your Kindle!
New: Read an excerpt from Driving with Cats below! Scroll past the review comments. 
Order your copy of Driving with Cats
.
.
Praise for Driving with Cats: 
"Wise, heartwarming, sad, funny, practical, down-to-earth–this book gives an inside look at life with cats: the good, the bad, and the cuddly. Not just one or two cats–this author lists six cats in her and her husband's small, rural, northern Minnesota home. Throw in a a full-time job or two, plus freelance work, writing, yoga, and a revolving cast of stray and feral cats, and you've got a sense of how busy and full the author's life is. If you're looking for support, insight, and advice, this book provides a model example of how a committed and ethical owner has handled the challenges of living with cats."
-Jim Cihlar, author of Undoing
"Anyone who has loved, lived with, or grieved the loss of a cat will appreciate Driving with Cats. This tender book interweaves profiles of the author's cat companions with her gems of wisdom on topics as diverse as finding your true calling in life, transporting cats to and from the veterinarian, the soothing aspects of yoga and meditation, the reality of dreams, and the gentle wind of a cat's presence after death. This delicate, life-affirming, and comforting book should have a place of honor on bookshelves where cats can curl up and wrap their paws around it."
–Linda Anderson, co-author, Angel Cats: Divine Messengers of Comfort, Saying Goodbye to Your Angel Animals, and other books in the Angel Animals series, www.angelanimals.net
"This book goes beyond the animal companions of the author: from the family the cats complete, to the spiritual, the aesthetic, and the end-of-life mystery. And Catherine Holm goes beyond as well: from a fine writer to a yoga master to an elevated soul.
–Joseph Maiolo, award-winning fiction writer whose latest book is Saint Matthew in Appalachia and Other Stories, overcoatbooks.com
"A road map for the emotional journey of life – and death – with animal companions. Heartfelt, personal and at times profound, Driving with Cats steers us toward living consciously, loving unconditionally, and absorbing what other animals appear to know instinctively: this moment matters. Be in it."
–Cathy Unruh, Animal advocate, journalist, author of Taming Me: Memoir of a Clever Island Cat, www.cathyunruh.com
"Life with our cats is a journey — one fraught with joy and with sorrow, but always traveled on a road paved with unconditional love and important lessons if your eyes and heart are open to receive them. Driving With Cats is a beautiful emotional and spiritual travelogue of Catherine Holm's own journey with the cats who touched her life and what they have taught her along the way."
–JaneA Kelley, Author of Paws and Effect, a blog by cats, for cats and their people
"If you have ever been owned by a cat, you'll relate to this charming, heartwarming, very real feline memoir."
–Patricia Fry, author of 37 books, including Catscapades, True Cat Tales, www.matilijapress.com
"Driving with Cats is not just about living in northern Minnesota, or living with cats. It's a book about devotion, adaptation, intuition, permanence, isolation, and living "in the moment." It contains wisdom learned from several memorable felines no reader will easily forget."
- Barbara Florio Graham, author and publishing consultant, www.SimonTeakettle.com
"Driving with Cats: Ours for a Short Time is a beautiful collection of stories of love, loss, and learning. By sharing the lessons learned from her cats, Holm offers a road map for anyone who is open to the often profound teachings that can come from simply loving and caring for a cat."
- Ingrid King, award-winning author of Buckley's Story: Lessons from a Feline Master Teacher and Purrs of Wisdom: Conscious Living, Feline Style, http://ingridking.com
"Holm's memoir is a moving tribute to her orange tabby Jamie, who was adopted at three weeks and who managed to cram nine lives into 20 human years. His story is peppered with tales about the other cats that Holm openly admits have helped to define her life. Her engaging style will have the reader reminiscing about cats they have loved and lost.
-Sandy Robins, author of For The Love of Cats and Fabulous Felines: Health and Beauty Secrets for the Pampered Cat, www.SandyRobinsOnline.com
Driving with Cats book review, Q and A, and book giveaway (through 9/7/13) at Cat Wisdom 101. Go HERE to read the review.
Author Interview about Driving with Cats, writing, publishing, and the human/animal-companion bond — read the interview at "You Read it Here First." 
Read an excerpt from Driving with Cats: Ours for a Short Time:
It's All Good
If there was a phrase that summed up Milo's attitude toward life, it'd be something like, "It's all good." Milo had an easygoing, unflappable personality. Nothing bothered him and things rolled off his back. He was easy, and he was cool.
When Milo passed on, I often imagined he was saying those words to me from cat heaven. I'd talk to him when I walked down our road. "It's All Good" started to make me smile, whether I saw it on sweatshirts or on coffee mugs. We bought a coffee mug with the saying on it, and it sits on the top of our refrigerator, a constant reminder to me of the joy, love, and sometimes-heartache of having animal companions.
Milo sent me a shooting star the night of his death, and I knew that indeed, all was good. I had to bring him home after we had him put to sleep, a two-hour return trip from the emergency vet on a Sunday afternoon. I wanted time with his body before I had to let it go. At home, night time came and I knew I had to put him in the freezer—the ground was frozen so we could not bury him, and we had decided to cremate him with a local vet. Another step in the grieving process.
I took Milo out to the garage, wrapped his body gently in a plastic bag, and set him temporarily in our chest freezer until I could take him to the local vet the next day for cremation.
Sighing, I turned from the freezer. More letting go. I stood in the garage doorway and looked out and up at a country night sky full of stars. Something released in me, and I looked at the sky and said, "thank you."
A shooting star dropped from the sky, in an vertical line, in the center of my range of vision.
Sometime later, eighteen-year-old Jamie faced surgery for a very painful tooth. Anesthesia is risky for old cats. Jamie pulled through fine though I worried for the several hours while he was in surgery. When I went to pick him up and settle the bill at the vet's office, I also got instructions for mixing antibiotic for another cat in the household. The vet tech probably picked up on that I was having a tough time retaining the details.
She nodded. "Call us if you have any questions."
"I get so crazy when I go through this," I tried to explain.
She smiled. "It's all good," she said.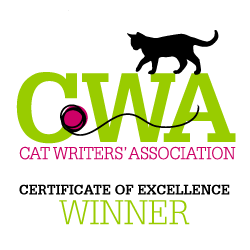 Order Driving with Cats